5 Modern Interior Design Tips
Today, modern home interior design is all about keeping things brilliantly simple and relevant. If you are thinking about spicing things up for your interior décor, you may have noticed how a majority of designs focus on having clean lines and are decluttered. And yet they look stunning and comfortable at the same time. You can do that too, without spending a fortune. You need to understand that contemporary aesthetics are not confined to any one particular style since a lot of homes are still furnished with mid-century furniture with a variety of different accents and style narratives.
In light of this, here are five very simple yet beautifully innovative and stunning house interior design ideas that you can pull off without a sweat.
1. Let Natural Light Seep Into Your Beautiful Home
Contemporary interior design is an epitome of open spaces, airiness and bright. Traditional design concepts such as large rooms that are closed off, have now been turned into bigger spaces with large windows. Natural and ambient light is absolutely essential to track the total orientation of your house. It also helps ensure that the main living spaces in your house point north in order to significantly enhance the amount of sunlight that seeps inside.

If you are also considering amping up your artificial light sources, it will definitely be worth your while if you go for downlights. Alternatively, you could also opt for a feature light that gives off a more modern look and feel.
2. Choose an Open Floor Plan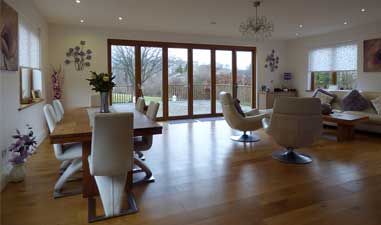 When it comes to home interior design, Singapore homes now focus on open-plan designs. You will immediately see how your house just completely unties and gives you that seamless look and experience – especially when it brilliantly merges with all the airiness and natural light coming into the room. You can also use the open-space style design to make the lines between the lounge and the kitchen invisible. You can do the same for your bathrooms and bedrooms as well as your outdoor living areas such as the patio or the terrace.

Today, home interior design is all about amalgamating an alfresco look with bigger doors. Moreover, you can even get a bi-fold door installed to considerably enhance the openness in all your rooms. This type of style will enable you to effortlessly mingle with your family while you are in the kitchen cooking or cleaning or just relaxing on the sofa. The excess space is for entertainment.
3. Use Vibrant But Neutral Colors and Accents
One of the most vital things central for an interior design company Singapore is picking a neutral color for your walls as well as bigger furnishings. The color palette must comprise of vibrant accents and shades. A modern color palette such as cool browns, greys, whites and creams and black clearly defines and adds to the shape of your furniture.

The colors allow the natural shine of the furnishings to fall through. Moreover, your centerpieces of the same color can also stunningly stand out. However, it will not be a good idea to bunch together a variety of elements because modern décor and interior design is all about keeping things simple and minimal while accentuating natural light and openness. So go for larger furnishings that will not cause a clutter.
4. Incorporate Natural Materials for Outdoor and Indoor Living Space
Natural materials such as textiles, rock, stone, marble or wood greatly blend into neutral colored designs and furnishings. You can use organic materials to decorate your indoor and outdoor space in the form of a feature wall. Using natural materials has an inherent panache that gives you home an elegant look and feel. You will find this a staple in the best modern home interior designs.
5. Modernist Art
Modernist artists completely negated the use of idealistic realism and delved more into personalized artwork – which had more expression and a palette of vibrant accents and hues. Modernist art such as Fauvism or different forms of abstract art beautifully encapsulate the essence of traditional modernist expression, styles and perspectives.

So, a big centre art piece that does not have a large frame is ideal as a feature art piece. Go for small art pieces on larger walls. However, be sure not to fill a large wall with unarranged galleries because that will give off a more cluttered look.
All in all, these are some simple yet effective house interior design concept and contemporary styles that can definitely give your home the 'wow' factor. However, the best thing about modern interior design is the fact that there are so many creative options that you can come up with along these lines. If you have some that are in line with these concepts, it's a good idea to consult an experienced interior designer.