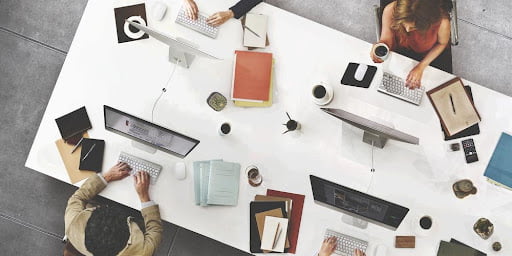 No matter whether you are a large, medium or small-sized company, it is always essential to have an office that's easy to clean, especially if your employees are in charge of maintaining the cleanliness of the space. Similar to having a disorganised house, a messy office can lead to low motivation and productivity levels amongst its occupants. 
To complement safe management measures in this current pandemic, a clean and sanitised office is of paramount importance. An easy maintenance office will provide both staff and clients an ideal environment to comfortably conduct business. Here are five affordable tips and design considerations for an easy maintenance office that everyone will enjoy working in every day.
Make Your Office Easy to Clean in the Long Run
1. Choose low-maintenance flooring
For starters, having low-maintenance flooring will allow fuss-free cleaning, considering that the floor is often one of the dirtiest areas of the office. A good pick would be having stained concrete, which is an inexpensive and durable material to clean. Other viable options include vinyl and laminate, which can save the time needed to sweep, mop and dry.
2. Look for quality upholstery fabrics
Quality upholstery fabrics will also aid you in saving time during the cleaning process. Leather is a popular pick due to it being aesthetically pleasing and easy to clean with just a simple wipe down. However, white ones should be avoided as stains easily accumulate on them. Alternative options like microfiber are also highly sought after, being stain-resistant and durable.
3. Find easy-to-move furniture
Sourcing for easy-to-move furniture helps significantly reduce the time and effort needed to shift things around for cleaning purposes. Cumbersome furniture not only increases the risk of injury, but also lowers employee incentive and motivation for cleaning. Additionally, the use of casters or wheels will greatly aid the mobility of shifting furniture around, enabling staff to clean hard-to-reach areas easily.
4. Organise the wires of your devices
Especially when we have so many devices, organisation of wires is essential or the workplace can look messy if left unchecked. Always label wires properly to their respective devices and use cable ties to group loose wires up neatly. Rain gutters are an additional neat trick as they can be easily repurposed to run cables through them. Attach them to the back of a work desk and keep wires hidden. This reduction of clutter is important not only to the cleanliness of the workplace, but to also improve the morale and well-being of employees.
5. Free up the floors with proper storage solutions
Finally, proper storage solutions should not be overlooked. An organised office should have proper filing cabinets, shelves and drawers, with a designated storage place for everything rather than being strewn in boxes all over the floor. With the floor space now freed up, it will be much easier to clean up the entire work area properly. The fewer things around to clean, the more efficient the cleaning process will be.
Get Started
Remember, an easy-to-clean office saves time and effort, boosting morale and productivity. If you are considering a switch towards a more eco-friendly office interior design during the search for new furnishings for your new office space, here are some tips for that as well.
Check out these latest office interior design tips to help you through your journey for a suitable office renovation. If you are in need of the services of the best office interior design company in Singapore, please feel free to get in touch with us at Zenith Arc and our team of professional commercial office interior designers to find out more.