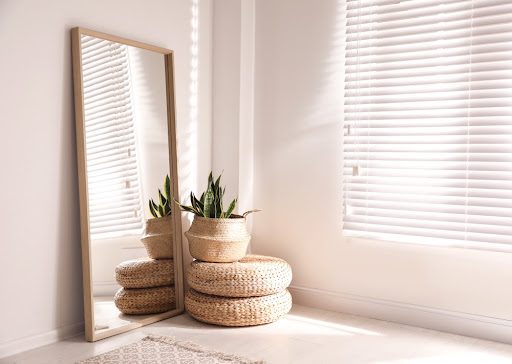 You've seen celebrities in their extravagant homes, or perhaps you've just seen the movie "Crazy Rich Asians" and felt that living in luxury was an unattainable fantasy for the average person. However, a high-end home interior need not always be apartments full of marble and granite, nor a costly prospect reserved only for the wealthy. If you've always wanted to live luxuriously without breaking the bank, you're in luck. Here are seven modern home interior design tips for you to affordably amp up the luxury meter.
How Can I Make My Home Look More Expensive?
1. Go for neutral or bold colours
For starters, having a variety of colours will instantly add an extra dimension to your home, and going for neutrals or bolds is recommended. Neutrals are a timeless addition to any palette, exuding class and elegance. On the other hand, bold colours may be more challenging but unique choices like rose gold, purple or even emerald are guaranteed to ooze luxury and bring that wow factor.
2. Try floor-to-ceiling curtains
One trick is to utilise floor-to-ceiling curtains to give the illusion of higher ceilings, adding an impressive dimension of spaciousness to your home by drawing the view upwards as natural light spills into the apartment. Have excess curtain material? No worries, simply trim the excess to fit your requisite length and save on customisation costs.
3. Hang art on your walls
If you're a budding aesthete and admirer of fine art, wall decor pieces are a cheap and easy way to catch the eye and impress guests without needing a Picasso or a Rembrandt. You could even hang up your own artwork!
4. Update old fixtures
Don't hesitate to dabble in DIY methods to give your old fixtures a much-needed update. Other than repainting the walls, old and dull cabinets may be reinvigorated with a simple and inexpensive coat of paint. Dated faucets and sinks might also benefit from an upgrade, instantly sprucing your bathroom up a notch.
5. Invest in a statement piece
A statement piece of furniture can jazz up your apartment, which can include fixtures like your sofa or area rugs. A large area rug can even provide a great homely base to include other furniture and accessories on. An eye-catching light fixture like a chandelier might also prove a bright idea by drawing attention as a key focal point; it effortlessly elevates the grandeur and atmosphere in the entire room.
6. Incorporate mirrors
Adding mirrors is also an inexpensive and impressive option to improve your home, where a set of mirrors can form a mirror wall to instantly increase the visual depth and dimensions of the room to appear larger than it already is.
7. Declutter
As always, "less is more". A clean, clutter-free room can add emphasis on any outstanding statement pieces and accessories you might own. Adapting the minimalist style helps facilitate your chic and luxurious home rather than be bogged down by cheap clutter, especially for homes with space constraints. For smaller accessories, one should choose complementary colours and display them in open cabinets or shelves to appear neat and organised.
Get Started
With some creativity and resourcefulness, you too can afford to live in a luxurious home that is elegant and comfortable, one that you are proud to showcase and impress potential guests with.
We hope these design ideas have provided you inspiration for your own luxurious modern home. Check out the latest custom home interior design trends to help you through learning more about modern house interior design. If you are looking for a reputable contractor for home renovation, please do not hesitate to contact the best home interior design company in Singapore to find out more.