8 Stylish Low-cost interior design ideas
The world of interior design is abstract yet exciting. The choices when it comes to designing your personal spaces are vast and impressive as well, but not everything we see sits right under our budget. However, that does not mean that creativity has to be given up. Anyone can still have their space designed in the same beautiful way they want.
The logic behind getting a creatively designed interior space within budget is to make smart choices. Places like Singapore, Malaysia, and Thailand are price-sensitive when it comes to getting the interior design jobs done. As a result, several interior design companies have come out with a cost-effective team, that especially handles such kind of pocket-friendly projects. Zenith Arc, an interior design company based in Singapore is one of the finest examples practicing this ideology. Zenith Arc has a special team of interior designers that are dedicated to getting specific kinds of projects done while keeping lower costs.
Here is a set of some brilliant ideas, especially recommended by the interior design experts at Zenith Arc that won't break your bank.
1. Molds: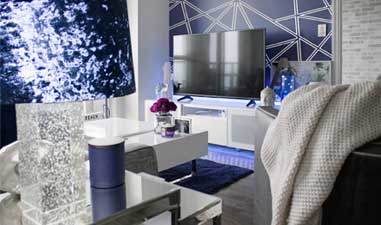 If your spaces are plain outright, this might be one of the best ideas to be put in action. The addition of artistic molds with the help of a matching baseboard can add a splash of uniqueness to your otherwise plain walls. No interior design necessarily requires costly purchases, when just a smart addition might just do the trick. The mold doesn't need to be crafted out of a costly metal. Twisting of painted wires or carving old woodblocks might just do the trick.
2. Wall art: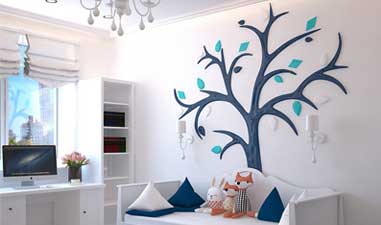 It's all about the perspective. Be it some fancy fruit art your sister drew or a drawing made by your toddler, wall arts can truly add life to any wall. However, wall arts are not an easy idea to execute. You also need to assure that the rest of the interior design elements are in order too. Sizing, scaling, and frames are also one of the crucial aspects when it comes to placing the wall art. Inexpensive wall art can give out the vibe of a house by itself, telling a unique story of your personal space.
3. Minimalism:
Sometimes, a clean-up can also sort things out. If you find something that is too obtrusive and not used in your interiors, get rid of it. An interesting survey conducted by the interior designers has found that almost 60 percent of spaces occupied in the home are either not used or obstruction in personal spaces. Replace the obstructing elements with the art pieces you always wanted to place in your house and voila! You will be greeted with an amazing self-created space. Keep the addition of the elements as less as possible, to get that unique minimalistic look.
4. Softness:
Soft and smooth elements tend to have a bright outlook in any shaded ambiance. Interior designers often go for elements like velour or velvet. Such kinds of elements in fabrics and curtains offer a rich look to the interiors of your house cheap. This option is highly preferred among the likes of Singaporean citizens who love decorating their homes with astonishing fabrics. Smooth fabrics paired with bright tints or shining tones offer a stellar look to the existing interiors designs in a beautiful way. Some of all time popular choices include pastel colors like blush pink, sky blue, and ice cream mint green.
5. Mirror:
Mirrors are a perfect reflection of the beauty of what you have in your places. Mirrors are also some of the cheapest ways of adding a unique kind of beauty to your ambiance. These are the primary reasons why they are often popularized at the entrance of several places. They often illusion small places as somewhat little more spacious and hence are observed in narrow hallways.
6. Natural wood:
To offer a cottage-like feel, one should look forward to adding natural woods in their spaces. More of that look can be achieved by the addition of wood benches, tables, wood panels, chairs. This combination offers a serious retro look to your space. Interior designers are often found experimenting with this approach due to its ease of approachability and affordability. Some interior design companies like Zenith Arc even collaborate with wooden furniture providers to achieve this look. A combination of several wood finishes gives a grainier look that compares to no other.
7. Minute details:
When it comes to your home, people are more likely to notice your furniture and appliances. However, detailing your home by minute details will make it elegant. This too, just like other options can be done at lesser costs. This can be easily achieved by swapping small broken fixtures and hardware in place of new ones. Although it might feel an intentional change at first, it is quite the catch in the long run. Plastics look quite dated when they are a part of an open atmosphere so take care of them as well.
8. Colors:
Choosing the right set of colors for your spaces can be a tough task. It surely is complex than choosing your favorite colors from the color palette. However, they have a great impact when it comes to the right set of colors. Complementing hues are worth a look, say the experts at Zenith Arc. Interior designers often advise avoiding selecting an extravagant or a rare color from the palette to avoid a dull look. Try mix-matching tones, tints, and shades in any order and you are ready to surprise anyone with a pop of surprising colors.

If you are tired of sticking to palettes, you can go creative too. One of the obvious and most preferred choices would be to opt for luxe paints. Luxe paint treatments offer a descriptive look to walls, unlike any other color pastel. They can be achieved using metallic strips, geometries, rough textures, smooth brushes, sandstone and many more. It gives a well-incarnated look to any kind of space, drawing eyes at the right places.
You are more likely to attract a lot of relatives and friends using this little guide at your home. Be ready to serve them and being the talk of your locality!