Avoid Expensive Home Interior Designing Ideas to Reduce the Cost
Home renovation can dramatically increase the value of your home, a stunning home interior design creates enjoyable new spaces and can turn any space into a functional space as per your need. Revamping a whole home is by no mean a small or inexpensive task, adding anything fancy or unusual needs additional labour to design, fabricate and install things that bound to incur extra costs.
Here are some home renovation choices that can have a big impact on your wallet:
1. Unnecessary False Ceiling:
A false ceiling is a ceiling under your actual ceiling that provides camouflage for electric wiring, ducts and pipes meant for cooling and heating devices and to alter the appearance of the ceiling. False ceiling can cost from $4 to $6 per square foot to install and can make the open space appear closed in and claustrophobic.
2. Picking Lavish Lighting Fixtures:
It's easy to get overwhelmed by the endless options for lighting fixtures available in the market, you can easily choose from countless types of lighting fixtures but the common mistake done by the buyers is picking up lavish light fixtures whether it be chandeliers that direct their light upward, typically over the table and provide ambient light, ceiling-mounted lights in a dining room or a hanging pendant. The buyers who are fascinated about their attractive designs they are going to pick something exciting that eventually bust their budget.
3. Curved Arches:
The curved arches are an integral home interior design feature of some architectural styles that add extra character and charm also, add a unique twist to the dull, boxy ceiling and serve a functional purpose too. However, opt for curves is time-consuming and potentially more expensive because of additional labour work, it is difficult to set up curves and angles.
4. High-End Kitchen:
The kitchen is the heart of your home, a place where you prepare your meals and share food with family. For a high-end kitchen remodelling, you need to replace everything with new materials including flooring, cabinets, appliances, tile, sink, fixtures, lighting and countertops. Super elaborate kitchen islands, big rectangular blocks in the middle of your kitchen where you can eat or cook on them, they can be useful, but expensive. It costs around $300 to high as over $10,000. However fixing a kitchen island with electricity and running water may cause home renovation delay and hence, increase the renovation budget.
5. Floor to Ceiling Built-Ins: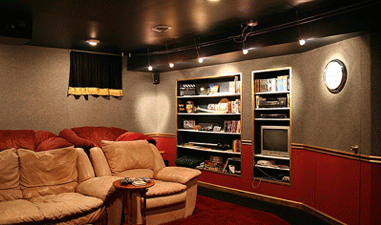 No doubt, built in units make a storage possibility almost anywhere, it also complements a home's architecture by transforming dead zones such as area beneath the stairs or under a windowsill into bookshelves, a bench or desk. Installing professionally designed built-ins will make a room space look immensely tidy and efficient and used to display collections such as art, books, and conversation-starting items. If you are on a budget, the cost to hire a specialist to build and install built-ins can be far higher than buying pre-made furniture due to the extensive amount of material used and labour cost.
6. Remodelling the Bathroom Unnecessarily:
A complete bathroom remodelling can be a challenge and a big task to perform if you're working a space that's awkwardly shaped. A basic, bathroom renovation with less expensive materials could cost you from $1,500 to $ 5000 while tip to toe renovation could run up to $23000. Most of this cost comes from fixtures and plumbing, cabinetry and hardware, counters and surfaces and labour. If your bathroom is in proper working condition then you can skip renovating it entirely or you can consider a touch up to the existing bathroom, rather than ripping everything down.
7. Built-in Aquarium:
Maintaining an aquarium is a great introduction to keeping pets, keeping it is a fun and rewarding activity, but its eye-popping how expensive built-in aquariums can be if you don't plan. These marine aquarium are custom-built, the glass needs to be cut to your specifications along with lighting and access points need to be incorporated into the walls. This greatly raises the cost, for example, a small built-in aquarium can set you back well over $3,500 and for the more elaborative version, and the price can cross $10,000 mark.
Having a huge, built-in aquarium can be a big turn off to the future buyers also, these aquariums are notoriously difficult to clean and expensive
Final Words:
A home interior design showcases your interest and personality. Your home is your pride and also an investment for your family's future. A home renovation makes major improvements that eventually increase your home's resale value. You can also increase your home's value by performing DIY and avoiding above mentioned expensive house interior design choices. Always try to get at least three quotes when you have decided for home renovation in Singapore and don't be afraid to negotiate price. Also, hire reliable contractors who will finish your home renovation project on time and within a budget.