Great Office Design Trends That Boost Productivity
Offices are regarded to be one of the most crucial aspects of a company. Perhaps, the works are done there decide the performance statistics of a company. Hence it is essential that a company keeps its offices well. When it comes to the interior design of an office, it tends to differ quite a lot from the design of a home.
An office interior design needs to take care of several aspects like spaces, noise reduction, placements, area of coverage and more. It also needs to make sure that the employees feel comfortable and energetic so as they could work at their best potential. It sometimes needs the assistance of a reputed office interior design company or a known office interior designer who specializes in taking care of such aspects.
Places like Singapore have recently started to become home for offices of several reputed companies. With places growing with offices and employees day by day, it is essential to take care of user-centered design in mind. Employee friendly offices tend to have a positive impact on the psychology of working minds and motivate them to work better. With all the points in mind, here are some of the good office design trends that greatly help in boosting productivity.
1. Greenery:
This is perhaps one of the easiest ways of building a beautiful office environment. Green color tends to have a positive effect of affirmation on the minds of people. Combine the green color with that of plants and it gives a refreshing vibe to any environment. While it not only graces the environment with a fresh feeling, it also contributes to ecological factors of the environment.

Adding trees and plants also has several qualitative advantages. It greatly helps in air purification, helping to keep the environment clean. Adding fragrant flowers or shrubs and herbs in the space would help in making the office full of elegant fragrance. It also eliminates the use of artificial fragrance pills and releasers. All in all, it greatly helps the employees to keep their calmness while working in a composed manner.
2. Noise proofing:
Noise is one of the most crucial factors affecting the working capability of a person. Offices are generally crowded and noisy, which spoils the surroundings of a working environment. Additionally, some office surroundings also contribute to making a great noise on the premises. An extremely noisy environment can have severe effects on the performance and personality of the employees.

Noise also arises stress levels in humans. The distractions created by high noise levels greatly affect the performance of the office workers. Hence it is essential to design the office as sound as possible. This can be achieved with the help of several installations. Installing several noise pollution panels and sound absorption sheets help in absorbing outer noises. Soundproofing meeting rooms helps employees focus during important discussions while avoiding intimidating noise pollution.
3. Windows:
Natural elements play a crucial role in keeping people attentive. Sunlight is one of them. One should always build an office with huge windows. This ensures that office interior design stays breezy and naturally lit at daytime. This approach also has several advantages like less use of artificial lights and lower energy consumption.

Big windows can be covered with light-colored drapes for contrasting effect. One can even make use of light bamboo curtains to make the office look more aesthetic.
4. Spacing:
An office is made up of several places. Such places include cabins, meeting rooms, kitchens and more. It is usually observed that offices do not take care of the area and spacing when all of the places are brought together. This is one of the reasons why meeting rooms often get disturbed by cabins. Office interior design should be done in such a way that all the places in the office are well spaced. Well-spaced places allow people to work optimally without having being disturbed by their adjacent rooms.
5. Colors:
Colors have a great psychological effect on human minds. They affect the mood and functioning of human brains by evoking emotional as well as movement responses. Hence, choosing the right amount of colors is a must. While some colors promote productivity, some colors demote it. For instance, the blue color is famously known to demote employee productivity. This is one of the reasons why blue color is often avoided in offices.

Splash of Bright colors highly promotes productivity and is often preferred while designing offices by office interior design companies. One can make creative use of several items like postcards, art walls, magazine cut-outs to add a splash of bright colors to the office.
6. Modern: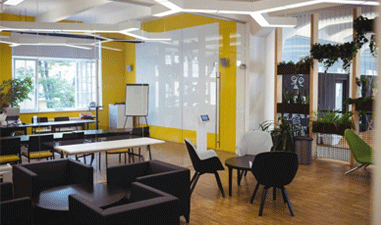 Offices of this century make use of digital technologies. A modern office usually consists of several laptops, PCs, and a variety of other components. Too many technologies clutter up the digital workspace. This is one of the reasons why desks often stay messy with cables and controllers all the time.

A digital workspace should always be well organized by making use of smart accessories. A right type of setup must be defined for each and every desk in the office so that the office achieves a minimal look. It would add more elegance to the workspace and allow easy access to the right technology at the right time.
7. Refreshments:
The human mind works best when the human is nourished periodically. Food is one of the best ways to keep employers focused and working for longer periods of time. it is a general fact that the human mind stops productive work when the human is running hungry.

This is where the importance of kitchens come in. offices can make arrangements in such a way that employees are able to get some form of a meal at several times during the day. One can also keep several vending machines in the workspace so that the employees are able to have anything at the time they are running hungry. Beverage refreshments and micro kitchens are one of the easiest ways to get started with this approach.
8. Furniture:
Good furniture is a sign of good office interior design. Chairs and tables have an intensive role in an office than any other furniture. Choosing furniture also has a great impact on the health of the employees. Good, ergonomic chairs have advantages like good physical health conditions. Ergonomic chairs allow employees to work comfortably work without having to worry about neck and back pains. Adjustable chairs are also a good idea so that the office furniture is accessible to everyone.

These are some of the top office design trends to get the best out of the employees. These tips can greatly help the offices to stay organized while keeping their employees happy. Happy employees lead to greater productivity in the community workspace.
Places like Singapore have a growing professional culture. As a result, a lot of offices are being developed in the locality. If you happen to start an office at the moment, reach out to Zenith Arc. We are a renowned interior design company in Singapore which offer good office interior design services.