Innovative Modern Home Renovation Ideas That Every Home Needs in 2020
What does home renovation meant to you? It may be fitting another kitchen or give a makeover to the bathroom or creating extra living space? For the greater part of us, redesign your home implies modernizing our home including more "functionality" to it or increasing its value.
Home renovation makes your home looks more beautiful and feel make you feel more comfortable. Remodeling home can be one of the most exciting and rewarding activities you'll ever do at your home. But at the same time, it can be a stressful, emotional experience because of the noise, mess, budget and more.
Here you will get to know, how by adding some elements you can refresh the heart of your home, the modern home renovation ideas that every home makeover needs in 2020 mentioned here will help you add a new modern flair to your home.
1. Minimal Furniture:
Practicing restraint can be a challenge, selecting comfortable, understated furnishing, decorative objects and well-curated artworks are the keys to a standout interior design scheme. If you are really looking forward to authenticating the modern vibe in 2020 into your home then it is advisable to invest in minimalist but qualitative pieces that will provide an unfettered and elegant look to your home.
When it comes to the modern home renovation process, carefully curating the pieces of furniture and creating a cohesive color palette, the right fabric can be overwhelming. The most striking interior designing of your home isn't determined by what you've piled into a given space but rather what you've left out.
Choosing minimalistic furniture has been popular for a while now, it's about ridding your life of clutter and focuses on simple living habits, having minimalistic approach while thinking about home renovation hinges upon cleaner, more suitable and more efficient way of living and functioning.
2. Interesting Accent Lighting:
Sophisticated light fixtures create a pleasant ambiance inside the house and create a comfortable and practical decor that focuses as much as appearance as it does on functionality. There is a wide range of accent lighting available in the market that introduces a unique flavour in the modern home interiors. Use of recessed and strip lights are some if the best and unique ways to carry the elegant yet different look.
The accent lighting offers the a bit of spotlighting and ideal for highlighting something special also, the modern accent lights can fit under a cabinet, higher up on ceiling moulding or over a work of art so even that the smallest nooks get the attention they deserve.
3. A Bright Accent Wall: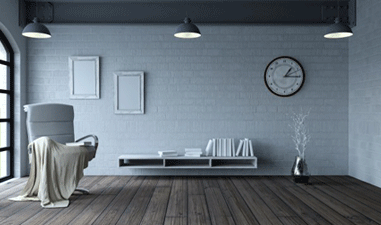 Having an accent wall is a great way to mix in colors or pattern into your living room, it would not only add depth to your room and allow you to create a focal point, but it can also be an incredibly budget-friendly way to give a makeover to your entire living area.
You can play around the accent wall, it can have a different color, design, shade or material. You don't have to shy away from using a bold color for your accent wall. You can try to think outside the box when you are considering the right accent wall around you. You can choose whatever color you like to or which makes you happy.
You can also add some quirkiness to the accent wall than just simple paint. Consider stone or tile for your accent wall or extensive shelving also works, include gallery or photos, artwork or even a fabric-draped wall.
Also, choose the right wall for your accent such as a room without architectural feature can be a good choice for an accent wall or a wall of windows can also be the accent wall. Using the latest temporary wallpaper can give a wall a designer look.
4. Add Pop Color and Elements to Your Kitchen: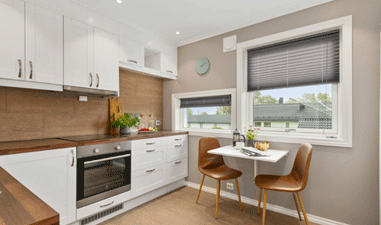 No doubt in the fact that a kitchen is a heart of a home and that is why you always want it to look as beautiful as possible. Also, it's sometimes become hard to make decisions when it comes to kitchen renovation. So here we suggest some modern kitchen renovation ideas that would help you get started with your kitchen renovation.
When it comes to modern designs for kitchen renovation the biggest key is "not to be in hurry" otherwise it will add twice as much stress to the project. The home renovation project is an investment hence, you should include a professional guide to make it successful. You need to choose wisely all the kitchen element and the professional help make this easy for you.
Cabinetry is the most important element into the kitchen, cabinets are something that you will use every day and are sometimes difficult to replace down the line. It is recommended to purchase the best-quality cabinet that also suits your budget.
5. Make a Statement With Bathroom Vanity:
Whether you're thinking of making small upgrades or a going for a full overhaul, a bathroom renovation can make a big difference into the feel if your home. Choosing a brand modern look for the bathroom isn't always easy so, here you will come to how you can give your bathroom a modern touch.
You can make your bathroom simply a gorgeous place to be by adding unique bathtubs, modern toilet designs, sleek vanity units that all come in different shapes and designs that will suits spaces and budgets both large and small.
When it comes to modern luxury bathroom design ideas, you can place the bathtub atop a bed of pebbles. Or in case you don't have a bathtub to put on the pebbles than a patch of pebbles under the vanity works well too.
Adding toilets with hidden tanks have several benefits, if you are remodelling the bathroom then the toilets with hidden tanks are worth considering. In case you are having a small space then the hidden-tank save you precious space and low-flow models help to save water every time you flush.
Use of medicine cabinet will get you more space and a sleek look. Few inches inside the wall you can install it, this will save yourself some needed space and make your bathroom look sleeker and modern.
Final Words:
The above modern home renovation design ideas will help you set the tone for the rest of the house and expresses your home interior design aesthetics. By using the mentioned modern home renovation design ideas which you need in 2020 help in combined great looks with a flawless function which make your home more stylish. Consider engaging a award winning interior design firm like Zenith Arc to guide you through the process. To put together a home that's perfect for your current everyday needs, get in touch with us today for more information.