Simple home renovation ideas: 2020 Edition
Home renovation is one of the most creative, real-time projects. It lays an emphasis on true design and fixing mechanisms that affects the residents in their daily lives. Home renovations are often mistaken as overpriced projects that result in big-time changes. However, there are a variety of simplistic changes one can easily implement in and out of their homes to bring over that fresh coat of newness to your favorite place.
Implementing a change that can truly affect you in daily life, can be overwhelming to implement by oneself. However, guided assistance can truly ease the situation by offering good-to-implement ideas. With that in mind, here are some simple home renovation ideas to stylize your home, 2020 style:
Easily upgrade your walls:
A paint job is not for everyone. Moreover, it is quite costly to opt for one. This is where the wallpapers can come in handy. Wallpapers that are easy to peel and stick-able, can bring over a plethora of designs and styles to your favorite place. This is one of the easiest ways to give a fresh look to the living rooms and kitchens.
Such kind of change is easily reversible too. Wallpapers can be easily shelved off the walls whenever needed. A quick pairing with small hanging items and art pieces can truly refresh the look of a space.
Decluttering spaces: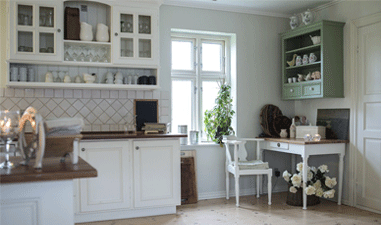 Shelves and cabinets are one of the best ways to organize your documents. However, there are instances when one might have decided on unnecessary documents, leaving those storage units empty. This is when decluttering can help. It not only frees the space of clunky big old units but also makes way for modern storage units. Modern assets like floating shelves are easily portable and movable as opposed to old rustic and heavy cabinets.
Freed spaces can be made more useful with the help of artistic baskets. Moreover, such baskets can be easily filled with items and serve as artful containers. It results in giving a stylish look to the environment that is minimal and utilitarian.
Woodworks covers: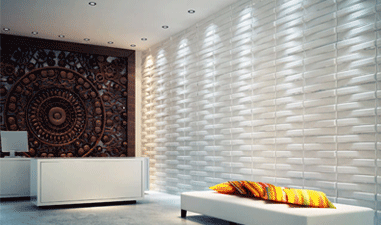 There's a sheer set of advantages with furniture in homes. They not only complement the space but also be used as camouflage to hide worn things. It is observed that couches tend to wear themselves over time. the coverings tend to develop holes and tears as they age. Buying a new couch to replace them or even sometimes, their repairing cost can come in to be too costly.
Furnished woodwork can truly make such wear and tears hideous. It can be also used to hide the wall and floor damages. These additions may even brighten the ambiance by their distinct look. Such additions can be complemented by additions of chairs and sculptures at various corners.
Faux coverings:
There are instances when a home design might not be efficient. One of such examples is of exposed pipelines. Such a setup isn't just unappealing but is dangerous as well. Breaking such exposed pipes can cause supplies to cut off and damage the people near the broken pipelines.
Hence the best way to fix these problems is to hide the pipelines. One can do this creatively by shelving them with rocks and marbles. If it happens to be an open place, one can even place faux objects like rocks and stones to cover a big chunk of pipes. The place can further be smartly complemented by growing a small garden in that vicinity. All in all, it would not only enhance the look of a house with safety but also add a splash of green to it.
Paint job:
Colors are one of the most highlighting elements of a home. They are known to shed their tone and chip off over time. Also, such kind of jobs can be done in no time, especially when done in groups. It is impossible to neglect them if a house is considered for renovation.
A fresh paint of coat on doors, windows, or walls; wherever it feels like it needs a refreshment makes a home renovation worthwhile. Sometimes, painting focused corners like the fireplace can bring a fresh homey feel with a unique appearance. Dark paints over the surfaces complemented with shiny accents can make it stand out. It not only refreshes an old corner but also highlights other new additions or repairs done during the process.
Update the modular:
There are times when the modular components may wear off with time. this is when their swappable nature can come in handy. One can start by replacing the old drawer pulls, cabinet and door handles in the kitchen. One can also stylize their looks by opting for a more modern, sleek-looking replacements. This may even serve as an opportunity to swap cracked doors and broken locks, restoring home safety in the process.
Sprucing the bathrooms: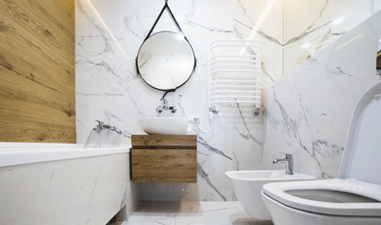 It is a known fact that good bathrooms fetch a good resale value. However, this is a lesser-known fact that minor bathroom remodels can be easily done if managed well. Bathrooms can be easily enhanced by the additions of new faucets and replacing the broken surface fixtures. Modifying the existing bathroom can be made more functional by changes like replacing toilet seats, add showers, and enhance the features by glass doors and sliding doors boosting the dimension to your bathroom.
Such a kind of bathroom is usually complemented by color splashes in the spaces that enlighten the ambiance of the room. Moreover, some wall-mounted lights can make the room more elegant if they added on the surface of ceiling fixtures.
These are some of the trendy home renovation ideas that will add a new life to your home. A little of each can be incorporated during a home renovation project to achieve the best of functional and aesthetics in the comfort of your home. Being simple also helps them to keep the costs low, helping to achieve an efficient outcome in the process. A minimal approach that is clubbed with such simple ideas can truly craft a home of desires.