Stylish and Latest Office Trends to Look For 2019 And Beyond
Environments account it all! Be it your dwelling or the place where you hustle, environment plays an important role in several aspects. It's not just the work culture that has picked up the momentum, the technology and the workspaces around them have evolved greatly too! Space adaptability has become one of the biggest concerns of any workspace, especially when you are modernizing your workspace with modern technologies. This is also where office interiors come into play. Be it a fresh office design or a project of the office renovation, design language plays an important role in building the vibe and utility of the environment.
2018 saw the rise of better workspaces in terms of their styles and utility to a whole new level. Office renovation too followed the same culture the following year. Major workspaces in places like New York, Beijing, Singapore, and others are more than decades old and are undergoing a major upgrade from the past couple of years. Interior designer companies are pushing their level best to offer the environments that are much suitable to a cultivating workspace. Perhaps, it's the extreme competitiveness that has been forcing the interior designers to outdo each other by offering compelling services. Such competitions have fared well to the end consumers, offering them unthinkable advantages like health endorsements, designer strategies on to the business segment. When it comes to the design perspective, offices come down to these following classifications that are coined as micro and macro workspaces. Significant impact is what the interior designer companies are often looking out for. This is where a creative effort and ideology comes into play.
Digital Environment
The world of assistants and tasks automation has witnessed a great difference in the past decade. Every little task done at any specific place has been affected to some extent by the advent of the modern technology. Modern devices are designed for keeping the environment and user aesthetics in mind. They blend in so well that the users often fail to notice as of their soothing design language. A perfect example for such cases would be smart IoT devices, home assistants, mobile virtual assistants, and bots. They can help you in getting things done while adding a modernized look and feel to your creative workspace. Interior designers often place them smartly in the workspaces.

Interior design companies such as Zenith Arc closely partner with renowned technological brands to give you their level best in terms of making your workspace more meaningful and utilitarian.
Third Space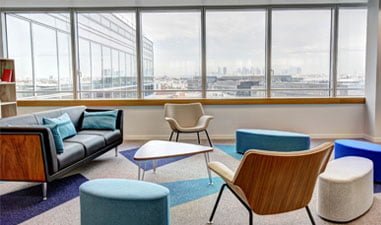 This the offbeat location where you would often find the employees, if not on the desk. When it comes to office renovation or office designing, this is the most discussed topic among a vast array of interior designers. This place is curated with utmost design principles since this is a place where the creativity usually comes out. Proper decorum in these spaces during any office renovation ensure that even the less used places are made with the best efficiencies at hand. A well-developed third space is a good sign for rapid developments and has been an immense talk of the town in space ridden places like Singapore from the past couple of years.
Lively Environments
Perhaps, it's the differences that define as to where you stand out. Office cultures often revolve around the hectic work chores and the environment bounds it. This is where a difference comes in. curating minds often need enticing places to think uniquely. There's nothing better than an experience being loved and lived well. The concept of a lively environment concludes a vast array of employee aspects into the perspective so that it can drive the best of human potential. Outstanding advantages of this comes to the employees in form of wellness development, spreading smiles, teamwork and community formations as well as pushing up the ideology upon inspiration. Some common examples include cocktail bars, game rooms, meditational areas and many more.
Crossover
Understanding what people want is regarded to be one of the most essential concepts in Interior designing. While some people adore modern assets, some still can't get over the retro feels they are homely with. This is known as "old meets new" by the interior design companies. This ideology revolves incorporating several elements like retro artifacts, modern office equipment, abstract designs, leather and wood carpets, and antique ambiance.

Some companies like Zenith Arc specialize in this objective so that, they can live up to the customized needs of the employees in an environment.
Nature at sight
The green color is known to impact our senses on a greater scale. Not only it makes the mind calm, but it also breezes a wave of greater thinking within ourselves. Psychology says that we are often bound to resort ourselves to flora and fauna whenever we feel stressed or tired. This is where this unique concept of Biophilic design comes in application. The concept runs around the idea of wrapping the elements of mother nature right amid our modern workspace. Various offices and headquarters have adopted this design trend of adding plants and flowers to their premises on a huge scale. Better nature-focused certifications and relative adoptions might seem a chore at first, but it's worth it. This way, you even contribute a little towards a healthy future.