Tips for Getting the Most Out of Your New Office Renovation
When was the last time you renovated your office? A lot of businesses outgrow their current work space as they expand. Maybe you are shifting to a new building or upgrading your existing offices. Things like an out of place wall or lack of useful electric outlets can hamper productivity and employee morale. Maybe when you started your business you got by without having a kitchenette but now you realize its importance as your team grows. Even if there is no major problem, a string of smaller issues can warrant an office renovation.
The right office interior design can improve productivity and facilitate better collaboration. It can also enhance your brand, especially if you have clients visiting your offices. At its core, office renovation can help you fix practical issues like under-utilized space or missing amenities.
But not every renovation in Singapore goes according to plan. This can be troublesome for the business owner. This is why many business owners are careful when approaching office renovation projects. But with a little guidance and professional help you can make the most of your office renovation.
You can hire a professional agency for office renovation in Singapore for best results. Still, it helps to know how you can get the best results from the renovation project. Let's look at some of the things you should remember to get the best results from your new office renovation.
Determine if it's Best to Shift or Upgrade
When a renovation is conducted at the start of a lease, it is easiest to accomplish. You get the flexibility needed for creating the perfect office environment before your workforce populates the area. You are also able to negotiate with your landlord from a position of strength at that time. Your landlord may be prepared to provide some updates that you need.
Here are some important questions you should ask:
What amount of space does each employee require?
Do you prefer private offices or an open floor plan?
Do you require a special conference room?
Are there any technical upgrade suggestions by your IT department?
Have you considered bathroom and kitchen upgrades?
Remember that moving is not required in every office renovation project. A lot of your requirements can be handled by upgrading your existing workspace. The right office design in Singapore can help transform your current office. You should also check your lease – it may require your landlord to provide some upgrades.
Decide Where Your Employees Will Work During Renovation
If you are staying in your existing offices, you will have to plan the renovation around existing business operations. This may require you to find a temporary work environment. Or you could have your employees work remotely if possible for the course of the renovation.
If multiple floors are being are being renovated, it's a good idea to take it one floor at a time. You can shuffle the employees within the floors as the upgrades progress. If you are expanding your office, it's best to complete the new space before starting to renovate the existing space. This way your employees can work in the new space while their old space is being renovated.
Hire a Vertically-integrated Brokerage Partner
Office renovation in Singapore is completed by the efforts of multiple teams. These can relate to architecture, construction, interior decoration and coordination. Poor communication among these teams can cause problems with the renovation project. Without proper oversight throughout the duration of the renovation, the project can fall apart.
This is why having a brokerage team is a good idea. In addition to helping you find the ideal office space they will supervise construction work. The best brokerage teams have experience working with different kinds of teams from architects to construction crews. They can even suggest the best people in the industry for your project. You will also receive more reliable estimates from teams that have worked together before.
Remember Post-Construction Finishes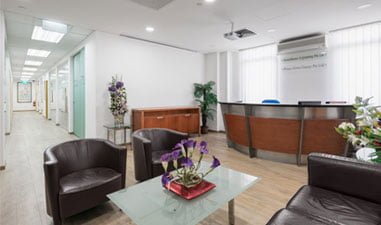 Post-construction elements such as furniture and décor can hugely impact your final office interior design. From a welcoming reception area to fashioning a collaborative bullpen, the right furnishings can make all the difference. So don't forget to account for and making the most of this element in your office renovation project. The right interior designer can help bring your vision to life by utilizing the most suitable furniture for your needs.
So, what kind of office renovation in Singapore do you need? The possibilities are virtually endless. The right renovation experts will work to your requirements and budget, delivering a better-looking and more productive working space. Remember the above tips as you plan your office renovation project. It's not every day that you upgrade your workspace. So when that day comes, do it right and make the renovation count.