Various Interior Design Trends
Everyone wishes to decorate their home in their own way. Every person has a different design idea that he/she wishes to apply on the home of their dreams. People often look for different designs that look unique on the walls of their homes. Good interior design does not need to be perfect, it just needs to look outstanding in everyone's eyes. An outstanding design comes to a result of the combination of modern elements, abstract styles, and renowned interior designers. Interior designers apply their years of experience and knowledge to identify core aspects of customer's every need to design the home of their dreams.
With all that in mind, here are some trending interior design trends. These trends shall guide you in designing the home of your dreams. Interior design companies help several people design the home keeping these ideas in mind. Several style ideas come together in this unique design catalog to build a home in the ways you like.
If you wish to build a home of your dreams in Singapore, reach out to Zenith Arc today. They offer a variety of interior design services across Singapore. Here are some of the all-time popular interior design styles to stylize your home:
1. Contemporary style:
This is regarded to be one of the most minimal home interior design approaches. The style is comprehensive and deals by designing with ideals like better natural lighting and excessive glass and woods that are organized in an unordered manner in a wide, open space.
Glasses and woods in the styles are met with rich metal accents and normal colors. The entire vibe gives off the look of finished fabric, complemented by dark wood tones. This kind of approach does not stick to a definitive style and keeps on evolving as time passes. This approach keeps on adding elements from the newest trends and hence, it always keeps the modern touch intact. Such kind of design usually pays attention to unattended spaces that are clean and minimal. Interior design companies usually make use of heavy-duty furniture to adorn such spaces.
2. Traditional style: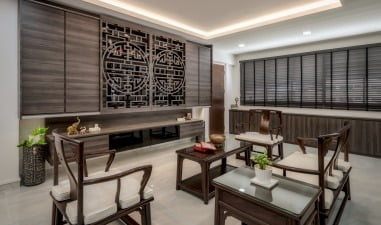 This is a multi-varietal approach. This design trend completely depends on the cultural influence on people's minds. It starts from classic American home styles and goes all the way up to retro European styles. All styles in this trend are complemented by elements like sophisticated wood paneling, elegant woodworks, bright color palette and accents that are paired with lush flooring finishes like velvet, silk, cotton, linen and more. This style also emphasizes the design language of the room with a detailed photo gallery in every room in the house.
Traditional designs rely on heavy furniture and artistic attachments for their style statement. It is a perfect choice for the likes of people who love to experience cultural and historical diversity in the comfort of their homes. While dark woods, bright palette colors and rich tones help in setting up the mood, several elements like antiques, art pieces, and other crafted objects help in adding a sense of drama to the overall space. It relies on pairing several elements spread across space, helping the design to achieve a balanced space.
3. Farmhouse style:
This design style is inspired by the villages. They have an essence of old and rustic styles with a light shade of country. It incorporates a lot of natural wood, is a little shabby and offers a great sense of comfort. Some characteristics like an all-white look, centered bonfire place, barn doors, and extended plank floors make it more elegant.
Farmhouse style is regarded to be one of the open interior design styles. It is usually preferred by interior design companies when one has a large, distributive space in their home. Spacious kitchen and dining area, open cabinets, big shelves, lush veils, natural textiles, rich fabrics, retro vintage accessories, old furniture, fewer glasses are some of the design style choices for the farmhouse style.
4. Scandinavian style: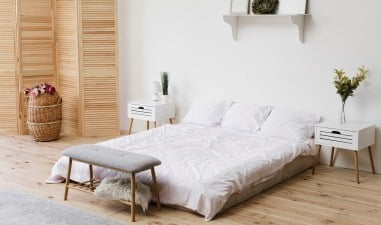 This design style speaks of simplicity. It is highly inspired by the lifestyle of people living in northern countries. It consists of several snow-white elements in its style. The style is further embraced by the likes of abstract textures, refined linens, complete with a comforting sense of coziness. It emphasizes natural light, bigger spaces and meaningful woodworks that serve the purpose.
It follows the Bauhaus principles to set the style of the homes. This principle emphasizes the Scandivinian style to emphasize on all-white color palette, bright and mixed accent colors, environment-friendly materials, soft contours, large mirrors with a pinch of subtleness. All of its arrangements rely on the principle of symmetry. They are best described as practical, clean and modern. A pure blend of simplicity and comprehensiveness.
5. Rustic style:
This style speaks of old vibes. This style is based on the theme of incompleteness. They are often raw and unpolished and are usually based on woods or stones. Interior designers using rustic as their central theme are often inspired by nature and rely on external accessories. The accessories have a detailed architectural background and are dramatized by several natural elements like retained ceilings and wooden beams and floorings.
The core focus of such look is real, nature-based unpolished materials which often give a dramatic look to the interiors of the house. Being raw, this style gives off a completely natural look that's earthy and organic. Sometimes, this style is also blended with the farmhouse style to dignify the heavy and dark tones. The mix gives off a fresh take compared to the original and rather thematic rustic theme. The style is complemented by several elements like handcrafted items, animal skins, big staircases and open ceiling beams in its theme.
6. Modern style:
This kind of interior design is more relevant in movies and shows. This is often preferred due to its warmer tones, cottage looks, and a more sophisticated style. it incorporates several elements like angles, lines, shapes, skews, and materials that define the tone of the style. It is regarded at the peak of sleekness due to its unparalleled simplicity and clean design language. This is because modern style incorporates a simple tone of color palettes that are often coupled with sharp, defined lines. It focuses on keeping the environment clean while removing extra objects from the background.
Elements in a modern style tend to offer a calming sense. This is because the theme of this style is based on a relaxing cool tone that isn't too loud or bold. Interior designers often intake several colors from the monochrome palette and mediate the sense of loudness and boldness through and through. The monochrome colors are complemented by splashes of primary colors. The design language of modern interior style comprises of chaos free environment, open floor plans, simple rugs, geometric patterns with forced asymmetry, art pieces and home tech.
These are the top six styles preferred by people around the world. These designs help people to build the home of their dreams. Interior design companies can help anyone looking to design their home with these and many more styles. Singapore residents shall be happy to hear that as an interior design company, Zenith Arc offers such interior design services. If you happen to design a home or an office in Singapore, reach out to the Zenith Arc today.