Home interior design
Singapore
Designed without flaws.
Custom
Home Interior Design

in Singapore
At Zenith Arc, we understand that your house's interior design is a part of your life which reflects your personality, taste of the things you like and quality time you want to spend with family. Our aim is to create a perfect home for your living needs. Each client is unique and so are their requirements. We clearly understand this and offer a fully customised home interior design service that incorporates a unique approach, modern interior and beautiful aesthetics. Our home interior design company wants to help create the next chapter of your modern home, whether it be through a house interior design consultation or home renovation project. Our interior designers do this by customizing the house to suit you, your family and your home. Check out our portfolio featuring modern, industrial and other interior design styles to gain more insights into our work.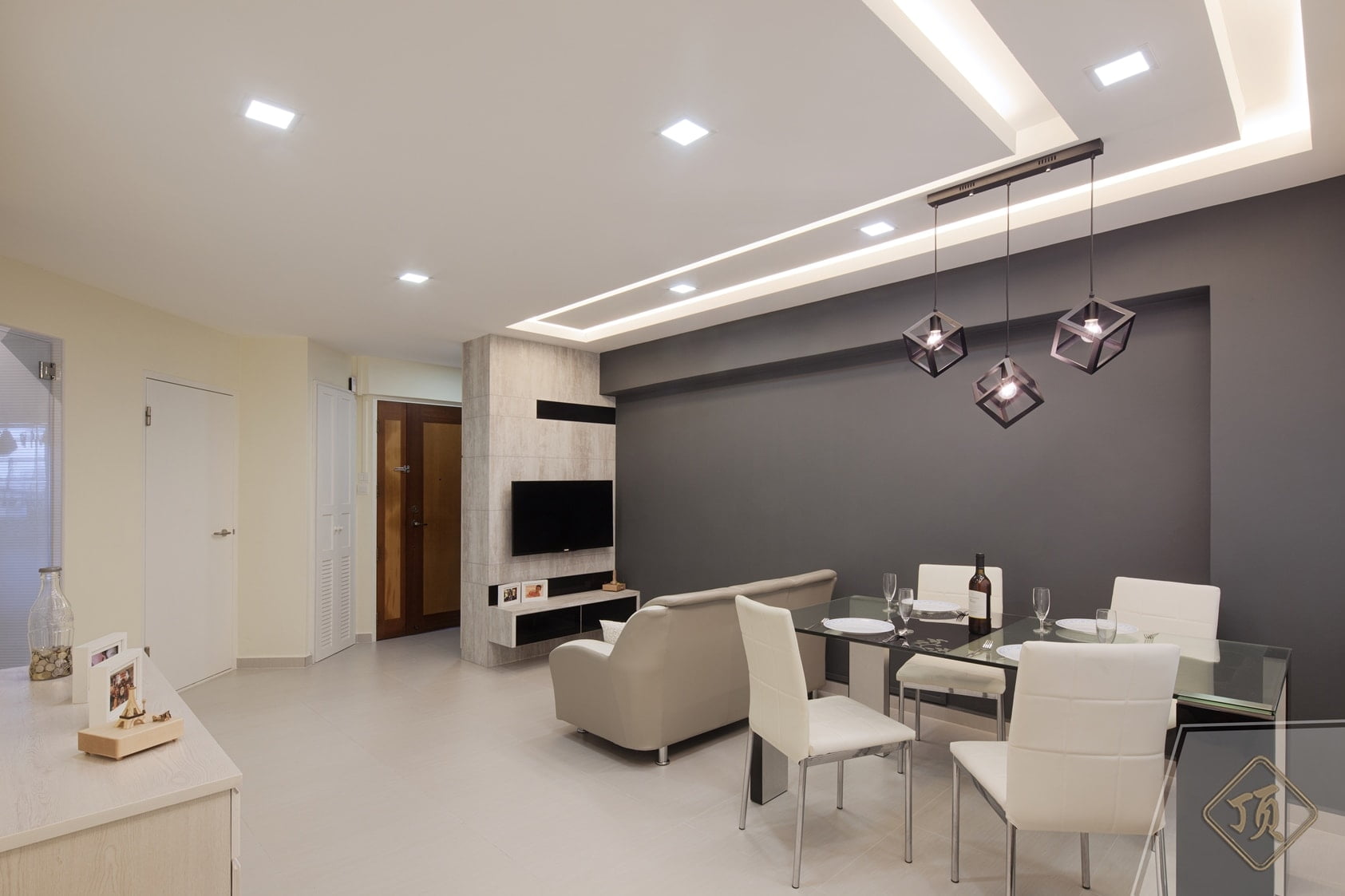 Process-driven house interior design
Our Home Interior Design
Process
An important factor in any modern home interior design is to utilise the available space intelligently. With a smart and innovative interior design, you can transform your HDB flat into a cozy and homely living space. We first start by understanding and observing the space availability in detail before focusing on the ideas of your dream home and what requirements you may have. We get the complete requirements on the table, analyse the current market trends and identify the best possible ways to enhance the expectations of the client before creating the final blueprint.
We take a complete and holistic view of your property when it comes to home interior design. We analyse your property, your lifestyle, your requirements and your expectations in the process of creating the blueprint. We ensure that your living room, kitchen, balcony, bedroom, bathroom and even the storeroom matches your taste. Take a look at our portfolio and call or email us to set up a consultation to find out more about our interior design services in Singapore.
Consultation
We discuss with our customers, internal team, vendors and expert consultants before starting any work on our clients' homes.
Space & Design Planning
We analyse the space available to utilise it in the best way possible. The entire design plan starts with spatial planning.
Confirmation of Contract
Whether you have a big or small house, we identify the best designs that suit your lifestyle and infrastructures and personality to map your expectations to our home interior designs. Once everything is in place and the budget is approved, we move to confirmation of the contract.
Material Selection
Building a sustainable design that can last for many years is the sign of perfect home interior designing. For best results, we only use best-in-class materials and high-quality products.
Renovation Process
The renovation process covers removing unnecessary structures and outdated furniture pieces to make way for new structures.
Handover Process
Our team will give a complete tour and know-how of which things are installed after the successful completion of your home interior design and renovation project.
Different Home Interior Design
Styles
Zenith Arc has comprehensive experience bringing to life different interior design styles for our wide portfolio of clients. We hope that the home interiors we design for our clients will communicate their unique personalities and preferences. With the variety of different home, home office and kitchen interior design styles out there, it can be challenging to narrow down the aesthetic that you would like to achieve for your house.To gain some inspiration for your own home renovation projects, read on below for a few of the most popular trends and  styles that have consistently dominated the interior design scene.
Scandinavian
When we think of Scandinavian interiors, hardwood floors, earthy, neutral tones and cozy, rustic-styled furniture immediately come to mind. The aesthetics of Scandinavian interior design apply well to both smaller homes like HDBs and larger properties in Singapore. Just as well, the Scandinavian trend has taken hold of the interior design world and doesn't seem to be letting go any time soon. Minimalism and beauty go hand in hand. Clutter-free open spaces and bright, natural lighting are consistent features of Scandinavian design. The use of lighter wood-tones and colours ranging from neutral to muted pastels are also popular among devotees of this interior design aesthetic.
Industrial
Highly popular in urban spaces like Singapore, industrial interior design gives off modern vibes with rugged debonair charm. Homes in this style usually feature stripped back architectural detail and spaces built from raw and exposed materials like bare brick, concrete and wood. Flexible and bold, industrial interior design is easy to pull off with a discerning eye and the right combination of materials. Hardware made from metals and similar objects in brass and silver are also popular accents found in a home designed with an industrial aesthetic in mind.
Eclectic
Eclectic interior design is brought to life through a skilful combination of different interior styles such as modern, bohemian and vintage. It is not uncommon to find contrasting materials and colours in an eclectic home. Personal mementos, knick-knacks and other sentimental objects are commonly used to accessorise eclectic houses and HDBs. Despite the relative flexibility of eclectic style, there should still be a rhyme and reason to everything. Those after an eclectic home design should definitely engage a professional interior design firm to ensure their living spaces do not turn out looking disjointed or overwhelming.
Minimalist
Minimalist designs are popular among homeowners in space-scare Singapore. Opting for a minimalist home aesthetic doesn't mean that your HDB and its accompanying bedrooms and bathrooms need to be void of material possessions. On the contrary, minimalist interior design makes use of clean lines and functional furniture with emphasis on creating modern and sophisticated living spaces. Minimalist interiors are especially great at opening up small areas for a more spacious vibe and often feature clever storage solutions as well. The colour palette for this interior design style primarily consists of monochromatic or neutral tones to ensure a cohesive atmosphere.
Create Your Dream Home With Our Interior Design Services
At Zenith Arc, we understand that strong emotions are attached to living spaces. We respect our client's expectations and innovate to design homes that match your expectations. We create unique designs for every project we undertake, and we take pride in bringing your dream home, house or HDB to real life with our design. As one of the leading home interior design companies in Singapore, we are committed to providing the highest customer satisfaction and creative solutions for every project.
Our team of experienced interior designers will beautify your living space and create an aesthetic attuned to your preferences for  you to live in a place you love. If you are looking for modern home interior design solutions, our team is capable of turning your dream home into a reality.
Visit our work section to view our extensive portfolio of completed interior design projects. Contact us at +65 9061 5051 or drop an email at jordan@zenitharc.com.sg to get a cost estimation for your house interior design work.
FREQUENTLY ASKED QUESTIONS ABOUT HOME INTERIOR DESIGN IN SINGAPORE
1. When should I renovate my kitchen?
Given that the cost of renovating a kitchen can be rather high, it would be practical to opt for a timeless interior design from the very start. However, with time, you may find yourself wanting to re-renovate the space.
Here are a few things to consider when deciding when to renovate your kitchen:
When wear and tear issues crop up
To change up the style
To improve functionality
2. Should I convert my home into an office?
With remote work becoming more common these days, you may find modern homes which double up as an office in Singapore. With proper planning, you can do so, too. Try to create a specialised area where you will not be easily distracted, and opt for functional office furniture to complement the space. Or look for experts who are familiar with such interior design requirements, such as Zenith Arc in Singapore!