Your Choice Commercial Office Renovation Contractor in
Singapore
Professional and Reliable Renovating Office Space Designers for Small to Large Offices
Office Renovation in
Singapore
Better utilization of the office space can be achieved with proper office renovation design, you can save much cost by making smart use of every available space. The striking visual of your new commercial office renovation plays a vital role in attracting your customers. And it gives them a feel of your professional business setup. Moreover, small office renovation in Singapore is not limited to smart space utilization. Renovations also ensure structural changes that support the safety and security of the staff. The colourful structures and designs enable employees to be more productive and excited about innovations. Structural changes in offices can include furnishings, decorations, paints, paintings, etc. Whether it's the remodelling of existing space or innovating a new office space, it is a huge task which requires years of experience and expertise. Providing a better working environment can enhance the functionality and productivity of your employee. By considering this fact during the office interior renovation process, it enables us to provide a well-structured workplace where your employees would love to work. Choose Zenith Arc for the remodelling of your workplace design. We endeavour to become your truly reliable office remodelling and office interior design company in Singapore.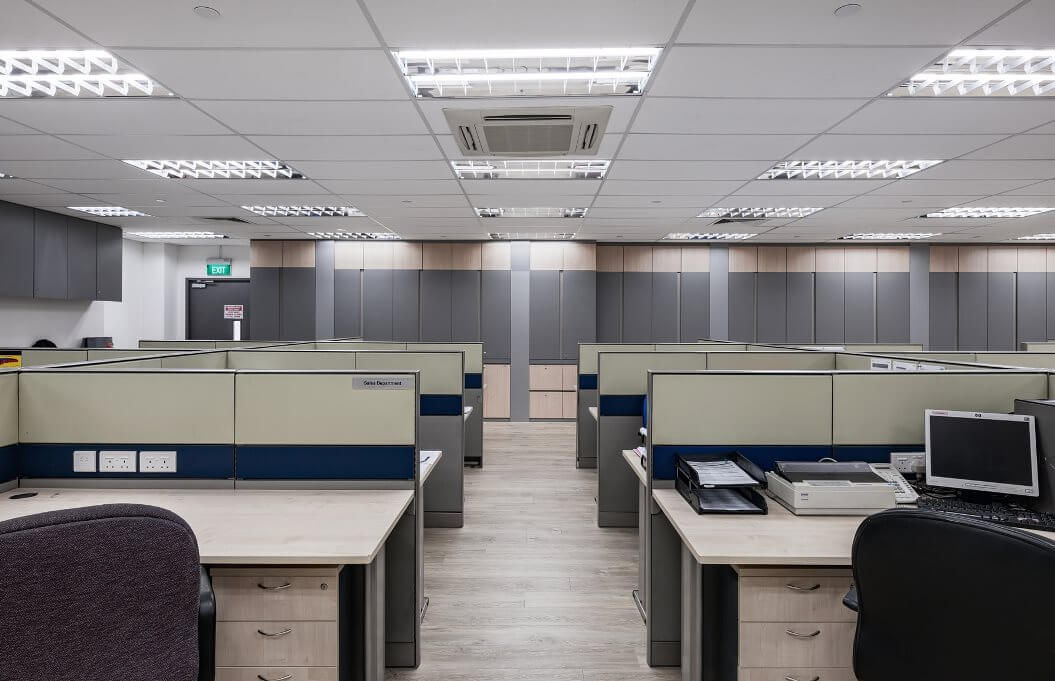 Office Remodeling Contractor in Singapore
Our office space renovation process is divided into 4 phases: understanding, design, development and delivery. In the 1st phase, we listen to our clients and understand their office remodelling goals. After requirement gathering, we come up with a ball rolling cost estimation for the renovation project. Once you agree with the price, we enter the 2nd phase. Here, we develop a detailed structural plan for the office renovation which turns your expectations into a reality. During the development process in the 3rd phase, our professional contractors start executing each part of the construction plan in a logical manner, to ensure timely work delivery. In the last phase, our work will be ready for your review. We only consider our remodelling project complete when you are truly satisfied with the work.
Space Planning
Office space planning and understanding the ergonomics for optimization is the first step. Based on the thorough analysis of the requirements, our team will ensure that every square foot of the space is well used and managed.
Professional Interior Designing
We have an experienced team of designers and architects with whom the entire plan of remodelling and innovating the office space is consulted. Creative designs, 3D drawings and conceptualization of the design is created for a unique business workflow.
Innovation and Creativity
We understand that there are many commercial renovation companies who can provide support in office remodelling. But if you choose us, you can be assured of added value because we take pride in providing innovation and creativity.
Hand Picked Team
We choose the most experienced team which can provide instant results and best-in-class service to our clients. All our associates, architects and interior designers are highly qualified and experienced. We will provide you with a project manager for all your queries and additions regarding home and office renovations.
Ultimate Results
Once we start the project, we define a deadline for ourselves so that we can deliver the project to customers before they expected. We do not believe in procrastinating and making the process cumbersome. All Liaoning, safety measures and budget finalizing is taken by our team.
Zenith Arc's Office Renovation Services
Singapore
Zenith Arc is a leading and professional office renovation service provider in Singapore catering to a wide range of customers, from small to large companies. With a proven track record in renovating commercial spaces, our clients across Singapore have trust in us for the quality of service and technology we use. The creativity and innovation that we deliver with advanced technology are what sets us apart from others in the market. We have a team of highly experienced and expert office renovation contractors and architects who have strong knowledge in managing small to large projects, in any given time.
In the past decade of commercial office renovation projects in Singapore, we have been part of several transformational projects delivering exceptional results to our clients. The simple reason why we are still leading in the competitive industry is due to our ability to deliver the top quality services and experience to you, at the most cost-effective budget. Whether you choose us for a small or large project, you can be assured we offer superior results with exceptional customer service.
Hire Our Office Remodeling Contractorr
Office renovation generally includes modification in the existing interior of the office or commercial space. There are several reasons for hiring an office renovation contractor, including outdated interiors, moving to new premises, freeing up space, and rearranging seating arrangements. Our remodelling contractors have an excellent track record in the delivery of renovated office spaces. This is testament to our astounding workmanship, structural design, outstanding interior design ideas and budget-friendly approach. Our qualified office renovation contractors will first understand if your office/commercial/business space requires a minor adjustment or a complete renovation. And based on that, we'll then come up with a price estimation for you.
Our services include:
Complete office renovation
Office addition and modification
Office strengthening and structural changes
Office moving and redesigning
Lighting, furnishing, and color renovation
At ZenithArc, our aim is to provide professional office renovation service in Singapore that delivers great results in a timely manner and at competitive rates. Our office renovation contractors are ready to undertake your project. So get in touch with us now and call +65 9061 5051 or email us at [email protected]